I have left most of the romance books I've read disappointed which bothers me. In result I think going in a bit of a new direction is needed. My new direction is going to be covert romances, romance is  going to be secondary to the plot. I thought about the cost and benefits of this new direction too.
Benefits
A. Better Written Stories
B. Deeper Issues
I do enjoy the romance genre and most of the books I read but I consistently found myself disappointed in the end.
Costs
A. Less Romance
B. Possibly Sacrificing the HEA
C. Finding These Romances
I already have problems looking for books that fit what I want anyway so this is nothing new. Also, since romance is seen by many people a certain way it is going to be hard for people to say this has a romance.
Samples & Previews
From the award-winning author of Half of a Yellow Sun, a dazzling new novel: a story of love and race centered around a young man and woman from Nigeria who face difficult choices and challenges in the countries they come to call home.
As teenagers in a Lagos secondary school, Ifemelu and Obinze fall in love. Their Nigeria is under military dictatorship, and people are leaving the country if they can. Ifemelu—beautiful, self-assured—departs for America to study. She suffers defeats and triumphs, finds and loses relationships and friendships, all the while feeling the weight of something she never thought of back home: race. Obinze—the quiet, thoughtful son of a professor—had hoped to join her, but post-9/11 America will not let him in, and he plunges into a dangerous, undocumented life in London.
Years later, Obinze is a wealthy man in a newly democratic Nigeria, while Ifemelu has achieved success as a writer of an eye-opening blog about race in America. But when Ifemelu returns to Nigeria, and she and Obinze reignite their shared passion—for their homeland and for each other—they will face the toughest decisions of their lives.
Fearless, gripping, at once darkly funny and tender, spanning three continents and numerous lives, Americanah is a richly told story set in today's globalized world: Chimamanda Ngozi Adichie's most powerful and astonishing novel yet.
[Chapters 1-7]
I started this and remembered why I stopped reading literary fiction.
I'm going to be blunt I think this book is overrated. I know I haven't got to the possible meat of the story but at 100+ pages I'm like what is so special about this book. At the beginning the story was talking about racial issues in America which is what excited me. I liked that it mentioned things (such as natural hair) something I have not encountered anywhere else (then again I don't read a lot of literary fiction).
Problems
-Mini-stories
After the interesting beginning set up the story goes back in time to have all these mini-stories that I question will come together. It is understandable why this book is so long because it has all these stories that don't really have a point in moving this story forward. I read another book, Please Look After Mom, that is literary fiction too that had this short stories of events in the characters interactions with her mom that I think handled things better (I need to finish this book now that I'm thinking about it). All the stories from that book as far as I read are leading to talk about how they treated her mom. I feel there is more of a reflection/talking about issues than Americanah does. It just feels like it is a bunch of stories that have no rhyme or reason.
-From what I have read so far all the characters seemed like stereotypes and one-dimensional.
On the romance front: eh.
All these things came together for me not to want to finish this story.  DNF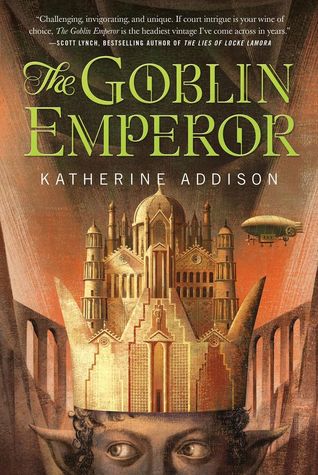 A vividly imagined fantasy of court intrigue and dark magics in a steampunk-inflected world, by a brilliant young talent.
The youngest, half-goblin son of the Emperor has lived his entire life in exile, distant from the Imperial Court and the deadly intrigue that suffuses it. But when his father and three sons in line for the throne are killed in an "accident," he has no choice but to take his place as the only surviving rightful heir.
Entirely unschooled in the art of court politics, he has no friends, no advisors, and the sure knowledge that whoever assassinated his father and brothers could make an attempt on his life at any moment.
Surrounded by sycophants eager to curry favor with the naïve new emperor, and overwhelmed by the burdens of his new life, he can trust nobody. Amid the swirl of plots to depose him, offers of arranged marriages, and the specter of the unknown conspirators who lurk in the shadows, he must quickly adjust to life as the Goblin Emperor. All the while, he is alone, and trying to find even a single friend… and hoping for the possibility of romance, yet also vigilant against the unseen enemies that threaten him, lest he lose his throne – or his life.
This exciting fantasy novel, set against the pageantry and color of a fascinating, unique world, is a memorable debut for a great new talent.
[Chapters 1- a bit of 5]
Thus far the romance hasn't appeared yet so I can't judge it on that but the story so far is good. As soon as the story started I liked the main character because he is cute. There is court intrigue and an interesting world to get into. Definitely looking forward to getting this from the library.
Conclusion= Romance Reconciliation, Disappointment, Receding
Coming out of this I feel that I'm trying too hard to make a reconciliation with romance work. More and more I'm trying to get as far away from the romance as I can. I wonder how much can I bend it until it breaks or there is the barest amount of romance in the books.  Trying to read Amricanah and a bunch of other books has me questioning why I'm trying to reach back for these genres such as romance, that I left behind. I went through this period of being disappointedly shedding all these genres/categories for a reason. I feel like I am looking back and holding on to many genres based on their potential. It is getting back to a place of me putting books that actually work off to spend time on books that could possibly maybe work. I need to be careful that I'm not working hard to make something that is never going to work, work.
The reason I keep looking back is that in many ways I want more. I want the critical thinking and discussion about things that is present in literary fiction and non-fiction. Then I want the action, adventure, and imagination that is supposed to be present in sci-fi and fantasy. Comics and picture books fill most of the void that the fantasy/sci-fi novel genres doesn't manage to fill. I don't know if comics can feel the missing pieces of what I'm not getting from literary and non-fiction though. I guess all these is just me letting myself know I need to expand more in the comics I read.