I requested all of these books from netgalley for a review. It sucks to request a book then be picked just to DNF the book.
Finding Mighty
Pub: 5/30/17
Along the train lines north of New York City, twelve-year-old neighbors Myla and Peter search for the link between Myla's necklace and the disappearance of Peter's brother, Randall. Thrown into a world of parkour, graffiti, and diamond-smuggling, Myla and Peter encounter a band of thugs who are after the same thing as Randall. Can Myla and Peter find Randall before it's too late, and their shared family secrets threaten to destroy them all? Drawing on urban art forms and local history, Finding Mighty is a mystery that explores the nature of art and the unbreakable bonds of family.
Why DNF?  Overall the bit that I did read was okay but I was not engaged into the story.
Liked: Has an Indian main character, mentions micro-aggressions that happens to Indians in a middle grade novel
Judas Cypher
Pub: 3/23/17
In a war between man and machine, he must find a way to protect them all…
After a devastating war forced humans to rely on synths for survival, the two have learned to coexist peacefully.
Until now….
When detective Dhata Mays is called in to investigate a homicide, what he uncovers threatens the serenity of this futuristic society. The gruesome murder means only one thing: someone is ready to incite another war. Now, it's up to Dhata to ensure that the truth stays hidden—to protect both sides of the battle. But can he be unbiased in a black and white world that forces him to take sides?
Why DNF? Feels like average mystery P.I. story with sci-fi added to it (which is good if you are into that type of story), "synthetic racism" which gave me a bad taste of trying to equate racism with not liking synths, all in all it could be summed up with I just am not caught by the story
Liked: Sci-fi bend to a mystery story, the murder and mystery is actually interesting, also the cover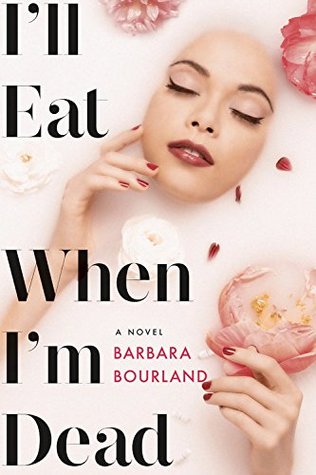 I'll Eat When I'm Dead
Pub: 5/2/17
When stylish Hillary Whitney dies alone in a locked, windowless conference room at the offices of high-concept magazine RAGE Fashion Book, her death is initially ruled an unfortunate side effect of the unrelenting pressure to be thin.
But two months later, a cryptic note in her handwriting ends up in the office of the NYPD and the case is reopened, leading Det. Mark Hutton straight into the glamorous life of hardworking RAGE editor Catherine Ono, who insists on joining the investigation. Surrounded by a supporting cast of party girls, Type A narcissists and half-dead socialites, Cat and her colleague Bess Bonner are determined to solve the case and achieve sartorial perfection. But their amateur detective work has disastrous results, and the two ingenues are caught in a web of drugs, sex, lies and moisturizer that changes their lives forever.
Why DNF? The mystery from what I read so far was not grabbing me.
Liked: Cover it is very eye-catching
Willow Born
Pub: 6/1/17
You'd think waking up fifty years after she died would be the least of Collette's problems. 
Years ago, witch hunters came to Carolina and devoured the Willows. Sixteen-year-old Collette, a powerful empath, was one of them. A part of a long line of witches that stretches back as far as the slave auctions of Charleston, she was especially gifted.
Decades later, a series of strange kidnappings prompts a member of her secret coven to make a plea for help and Collette is chosen to answer the call.  But things have changed. Angels have come out of the divine closet and everyone is on the lookout for the supernatural.
Snatched from the Void, she has to choose between a normal life and following the warrior path of the Willows, a coven she didn't know she belonged to. Soon, problems pile sky-high as she struggles to keep the boy who could blow her cover at arm's length and her sanity as family secrets come to light in the midst of a serial killer.
In the end it all comes down to destiny, death  and the grey places between good and evil. But then again, when you're Willow Born death can be just the beginning.
WILLOW BORN is a  stand alone Paranormal Fantasy. Fans of Natalie C. Parker's Beware the Wild and  Zoraida Cordova's Labyrinth Lost will be delighted with the book's mix of supernatural drama, romance and Southern fantasy.
Why DNF? Fatphobia (one of side characters is described as weak and fat) I did not read far enough to see if the label put on him is challenged. Of course on the opposite spectrum the love interest is muscular thus brave. The story overall needs to be polished more.
Liked: black love interest, main character is reborn (born? reincarnated? summoned?) knowing her past, I think overall the story is a good idea
Pub: 3/1/17
1931. Bronzeville. Chicago. The mage, Frank "Half Dead" Johnson, is a marked man. Literally. A drunken decision fueled by tragedy has left him with half a soul, sorcerous powers, and two centuries to work off his debt to Scratch (aka The Devil) himself.
Watch as "Half Dead" attempts to save his own soul, pay his debt, and help as many people as he can along the way. It's a hard-hitting Hoodoo Noir highball with just a splash of Southern Gothic. Smack-dab in the dark heart of the Windy City. Hold on tight! It's going to be a bumpy ride down Hard Times Road.
Why DNF? I did not like the story just based on investment sake. I did not feel propelled to finish it.
(images are from goodreads and synopsis are from netgalley)