In my quest to not do so many book reviews here is a tbr for future me. This TBR was  unintentionally science fiction and fantasy heavy.
Miles Morales
August 1st
Genre(s)= science fiction, fantasy, ya
"Everyone gets mad at hustlers, especially if you're on the victim side of the hustle. And Miles knew hustling was in his veins."

Miles Morales is just your average teenager. Dinner every Sunday with his parents, chilling out playing old-school video games with his best friend, Ganke, crushing on brainy, beautiful poet Alicia. He's even got a scholarship spot at the prestigious Brooklyn Visions Academy. Oh yeah, and he's Spider Man.

But lately, Miles's spidey-sense has been on the fritz. When a misunderstanding leads to his suspension from school, Miles begins to question his abilities. After all, his dad and uncle were Brooklyn jack-boys with criminal records. Maybe kids like Miles aren't meant to be superheroes. Maybe Miles should take his dad's advice and focus on saving himself.

As Miles tries to get his school life back on track, he can't shake the vivid nightmares that continue to haunt him. Nor can he avoid the relentless buzz of his spidey-sense every day in history class, amidst his teacher's lectures on the historical "benefits" of slavery and the importance of the modern-day prison system. But after his scholarship is threatened, Miles uncovers a chilling plot, one that puts his friends, his neighborhood, and himself at risk.

It's time for Miles to suit up.
Calling My Name
October 24th
Genre(s)= contemporary, ya,
Taja Brown lives with her parents and older brother and younger sister, in Houston, Texas. Taja has always known what the expectations of her conservative and tightly-knit African American family are—do well in school, go to church every Sunday, no intimacy before marriage. But Taja is trying to keep up with friends as they get their first kisses, first boyfriends, first everythings. And she's tired of cheering for her athletic younger sister and an older brother who has more freedom just because he's a boy. Taja dreams of going to college and forging her own relationship with the world and with God, but when she falls in love for the first time, those dreams are suddenly in danger of evaporating.
Black Beauty
September 15th 2015
Genre(s)= fantasy
At Vista Apartment Complex, life drastically changes for few of its residents when they decide to do business with Crazy Jade—the supposed voodoo witch that can grant your wish, for a price.

Shemeya wants the confidence to stand up against the girls bullying her at school, but she soon has to choose between keeping her dreadlocs or living a normal life. After catching her boyfriend cheating, Latreece just wants to have the same curves as all the other girls. Ashley will do whatever she can to have "White Girl Flow", but takes her pursuit too far when she steals from Crazy Jade.

Everyone who comes into contact with Crazy Jade soon learns the true price of her magic—and how horribly wrong it can go.

BLACK BEAUTY takes the reader on a journey through the point of view of five residents of Vista Apartment Complex, and how each of their horrors crash together in ways they could never have expected.
An Excess Male
September 12th
Genre(s)= science fiction
From debut author Maggie Shen King, An Excess Male is the chilling dystopian tale of politics, inequality, marriage, love, and rebellion, set in a near-future China, that further explores the themes of the classic The Handmaid's Tale and When She Woke.

Under the One Child Policy, everyone plotted to have a son.

Now 40 million of them can't find wives. China's One Child Policy and its cultural preference for male heirs have created a society overrun by 40 million unmarriageable men. By the year 2030, more than twenty-five percent of men in their late thirties will not have a family of their own. An Excess Male is one such leftover man's quest for love and family under a State that seeks to glorify its past mistakes and impose order through authoritatian measures, reinvigorated Communist ideals, and social engineering.Wei-guo holds fast to the belief that as long as he continues to improve himself, his small business, and in turn, his country, his chance at love will come. He finally saves up the dowry required to enter matchmaking talks at the lowest rung as a third husband—the maximum allowed by law. Only a single family—one harboring an illegal spouse—shows interest, yet with May-ling and her two husbands, Wei-guo feels seen, heard, and connected to like never before. But everyone and everything—walls, streetlights, garbage cans—are listening, and men, excess or not, are dispensable to the State. Wei-guo must reach a new understanding of patriotism and test the limits of his love and his resolve in order to save himself and this family he has come to hold dear.

In Maggie Shen King's startling and beautiful debut, An Excess Male looks to explore the intersection of marriage, family, gender, and state in an all too plausible future.
Valley of Terror
August 29th
Genre(s)= horror
A mysterious "fear disease" is scaring to death the citizens of Longzhou, China. Literally. Victims go insane or die frozen in terror, while survivors rant maniacally about demons infiltrating the city. But what's really behind the sudden epidemic? To find the answer, Chief Inspector Luo Fei teams up with a controversial historian and a brilliant psychologist to track down the true source of the illness and halt the wave of horror that threatens the metropolis.

As the trio ventures to the primitive jungles and mountains of Yunnan, they're haunted by tales of a seventeenth-century general whose demonic soul, said to have been sealed away in a vial of his blood, has been unleashed on the modern world. Now, trekking deep into the legendary Valley of Terror, they find themselves being stalked by someone—or something—daring them to uncover the truth. And as superstition, science, and history collide, their discovery could be as heart-stopping as fear itself.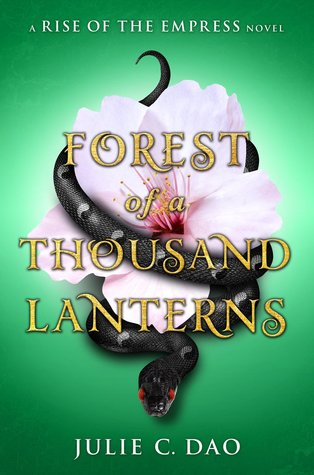 Forest of a Thousand Lanterns
October 10th
Genre(s)= fantasy
An East Asian fantasy reimagining of The Evil Queen legend about one peasant girl's quest to become Empress–and the darkness she must unleash to achieve her destiny.

Eighteen-year-old Xifeng is beautiful. The stars say she is destined for greatness, that she is meant to be Empress of Feng Lu. But only if she embraces the darkness within her. Growing up as a peasant in a forgotten village on the edge of the map, Xifeng longs to fulfill the destiny promised to her by her cruel aunt, the witch Guma, who has read the cards and seen glimmers of Xifeng's majestic future. But is the price of the throne too high?

Because in order to achieve greatness, she must spurn the young man who loves her and exploit the callous magic that runs through her veins–sorcery fueled by eating the hearts of the recently killed. For the god who has sent her on this journey will not be satisfied until his power is absolute.
Talon of God
July 25th (already out)
Genre(s)= fantasy, horror
The acclaimed actor makes his fiction debut with this enthralling urban fantasy in which a holy warrior must convince a doctor with no faith to help stop a powerful demon and his minions from succeeding in creating hell on earth—a thrilling adventure of science and faith, good and evil, damnation and salvation

Imagine that everyone you have ever known or loved was forced against their will into a state of demonic possession and spiritual slavery. Imagine an unholy cabal of the world's richest and most powerful men directing this sinister plan in order to cement their unbridled control of the planet.

Imagine two heroes emerging from that darkness to do battle with the forces of evil.

Set in the mean streets of Chicago, Talon of God is the action-packed adventure centered around the Lauryn Jefferson, a beautiful young doctor who is dragged into a seemingly impossible battle against the invisible forces of Satan's army and their human agents that are bent on enslaving humanity in a mission to establish the kingdom of hell on Earth.

But Lauryn is a skeptic, and it's only as she sees a diabolical drug sweep her city and begins to train in the ways of a spirit warrior by the legendary man of God, Talon Hunter, that she discovers her true nature and inner strength. Facing dangerous trials and tests, it's a true baptism by fire. And if they fail, millions could die. And rivers of blood would flow throughout the land.

Imagine such horror. Such pain. And imagine what it would take to fight against it. For only the strongest and most faithful will survive?

Get ready. Armageddon approaches quickly.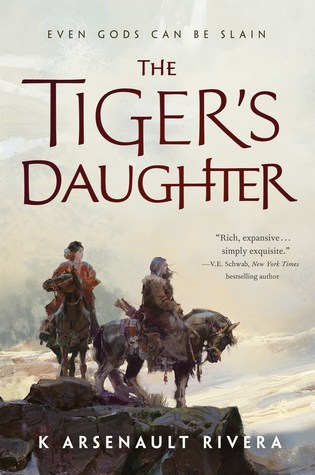 The Tiger's Daughter
October 3rd
Genre(s)= fantasy
Even gods can be slain….

The Hokkaran empire has conquered every land within their bold reach―but failed to notice a lurking darkness festering within the people. Now, their border walls begin to crumble, and villages fall to demons swarming out of the forests.

Away on the silver steppes, the remaining tribes of nomadic Qorin retreat and protect their own, having bartered a treaty with the empire, exchanging inheritance through the dynasties. It is up to two young warriors, raised together across borders since their prophesied birth, to save the world from the encroaching demons.

This is the story of an infamous Qorin warrior, Barsalayaa Shefali, a spoiled divine warrior empress, O-Shizuka, and a power that can reach through time and space to save a land from a truly insidious evil.