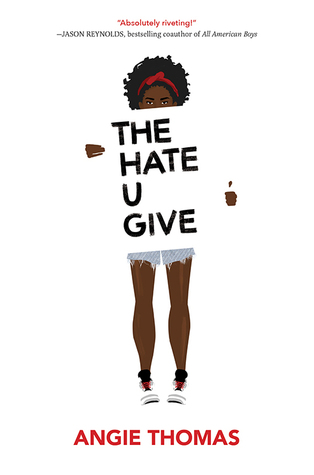 Synopsis
Sixteen-year-old Starr Carter moves between two worlds: the poor neighborhood where she lives and the fancy suburban prep school she attends. The uneasy balance between these worlds is shattered when Starr witnesses the fatal shooting of her childhood best friend Khalil at the hands of a police officer. Khalil was unarmed.
Soon afterward, his death is a national headline. Some are calling him a thug, maybe even a drug dealer and a gangbanger. Protesters are taking to the streets in Khalil's name. Some cops and the local drug lord try to intimidate Starr and her family. What everyone wants to know is: what really went down that night? And the only person alive who can answer that is Starr.
But what Starr does or does not say could upend her community. It could also endanger her life.
The Good
I have a lot of thoughts which makes me wish that I would have done a readalong for it. I  wish someone else did one too but I think I understand (possibly/more than likely) why. I believe many people did not do a readalong for it because  there are so many touchy subjects in this book. Anyway, on to what I liked about this book…
Not white centered: One of my fears was that it was going to be for white people thus watered down/sanitized. My fear came from many other y.a. novels with black main characters that I have read who go to a boarding school or a school that is majority white/mixed racially (which many people see as the dream for interracial harmony but do not talk about the reality of what assimilation has meant for poc in general). My fears were mostly unfounded because Starr was not cut off from the black community.
It is set in modern black lives matter world through the eyes of a black girl: black lives matter and police brutality is not all new all different it is a thing in this world.
So much black culture is shown: it made me think about how much I do not hear books talk about black culture.
Shows the trauma that comes with being involved with police brutality: seeing friend be murdered and people's reactions to it
Allowing Starr to grieve and not fall into the strong black woman trope. Her trauma does not go away after five minutes. Also, she does not just have bad days of her being sad.
Bringing police brutality and all the issues in T.H.U.G to a young adult novel-thus a young audience. By putting everything into a young adult novel it can reach a wider audience than a literary novel.
Cuts all ties that would lead to respectability politics
Poc solidarity
White feminism: I mean you can have entire middle grade books about white feminism casually but it is something else to have one about racism
Intraracial black issues
Reality of interracial relationships: I don't know how I feel about Chris and Starr relationship. For a long time the only thing we see Chris partaking in is black culture like making references to Fresh Prince of Belaire but at the same not knowing that much about police brutality (appreciation vs appropriation). It annoys me because going along the points above people think that the work of solving racism is just putting poc and white people together. His ignorance/naiveté got on my nerves at many points but he is not terrible like Hailey but still… They are in high school too so growth can come later. Then characters in THUG said he ain't white he light skinned, nah. Nah!
Moral ambiguity to black characters: they are not one dimensional tropes.
Stay in hood vs suburbia: suburbia≠utopia
White privilege
and so so so much more
Emotionally it was an enjoyable book to read.
The Meh
Police are given nuance with Uncle Carlos- which I get but at the same time it is annoying that black people have to go not all cops when talking about police brutality.
The story lightly treads some things that it could go harder on (but also I know it could not be everything, do everything, and hit everything)
The Bad
Do I think it wants to jampack every issue in one book? I can't get mad because this info all of it, the entire book needs to get out to everyone who can read it.  Nonetheless, there are moments put in the book that felt unnatural/inorganic to the story.
The story wrapped up some things in a way that was too neat and convenient.
Ending Thoughts
I really enjoyed this book a lot. I just would love to see more critique about it (that is not obvious/blatant/just plain anti-black racism because there is a lot of those on goodreads). I am enjoying all the love that her book is getting and cannot wait for her next novel.
Here is a critique of the book that is notable: http://blacknerdproblems.com/the-hate-u-give-blm-gets-the-novel-treatment/