*little factoids about the books which may possibly change since there are two more weeks left in the month

) Lines We Cross
A. Making the white guy love interest work to deserve his person of color love interest
Status update on goodreads at 60%: Doesn't let Michael off hook for racism like every time I think they finna do it they do a nope. You are actually going to face the hard work without a poc holding ur hand and coddling you through it (trying to keep this light but interracial relationships romantic and non-romantic need people who not only care about their friend/partner struggles  but also constantly work to get rid of their racism/prejudice)
B. Marina (main character) has a full life
It shows her family, friends, experiences, and so much more.
C. Audiobook
Listened to this 97-98% on audiobook so the narrators had to be good.
) Piecing Me Together
*read this at the same time I read The Duff
A. Probably the closest I will ever get to seeing my experiences as a teen in a novel.
B. Focuses on intraracial issues
C.  Black feminist themes
It is connected to what feminism, womanism, or just what some black girls deal with. There was definitely a compare and contrast that happened between Piecing Me Together and The Duff.
)  The Duff
*most read by other people
*read this alongside Piecing Me Together
A.  Kind of progressive in terms of sex positivity (my review gets further into why its a kind of)
B. Main character is messy- opinionated, kind of judgmental,  all stuff honestly I was as a teen. A part of the compare and contrast mentioned earlier with Piecing Me Together is the fact that I found myself in both  novels.
C. Movie –>Book
Seeing the movie before the book is probably going to be my newest method since it has worked really well this year.
) Allegedly
*first young adult novel read
*only readalong finished
A. The book that made me get back into young adult
B. The mystery
C. The Readalong– the experience of asking, answering, and chronicling the progression of the story.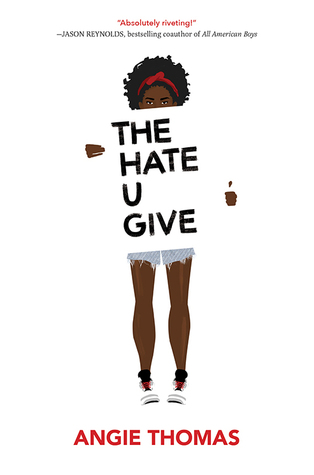 *longest book
*highest rated
A. Visibility- the fact that it is so widely read that I can still find a new review about it in December
B. More than Police brutality- a lot of people describe this as a novel about police brutality which is a disservice because 1. it makes people go into the novel with a certain expectation that is solely about police brutality 2. it is so much more than police brutality
C. Own the physical copy- one of the few person of color (particularly black) young adult books I owned this year so I tabbed it up.
There is so much that it did that I covered in my review of the novel
(Covers are all from goodreads)